Hyundai's N Division Proves Sporty Cars Can Do It All
The Hyundai brand was gaining momentum in America in 2012. Ace designer Peter Schreyer had settled in and a strong lineup of affordable and handsome products were the result. The Korean company founded its luxury arm a few years earlier with the Genesis brand, but the sports car enthusiasts were still waiting for something to get excited about after years of half hearted attempts.
Enter N.
Hyundai's sporty N brand is modeled after BMWs M brand. The company even hired ex-BMW engineer Albert Biermann, who retired last year, to helm the venture. The brand's soft launch was in 2012 with the completion of the i20 WRC Concept for the World Rally Championship racing series.
Hyundai Motorsport was incorporated in Alzenau, Germany shortly after.
In December of 2013 Hyundai established its technical center at the Nurburgring racetrack and presented the first N logo on its 2014 WRC car. In 2015 it introduced two N concepts and in 2017 the company launched its "first high-performance car," the i30 N for Europe.
"N stands for three main things," Derek Joyce, senior manager, product public relations for the N brand told Newsweek. "First of all, our performance Tech Center in Germany is at the Nurburgring racetrack. It's an impressive facility, and it's where a lot of our engineers do intensive testing and development. Also, there's a similar facility at the R&D Center in Namyang (the second N). A lot of our engineering experts are there as well, proving out products. And [the final N] is the carousel, a famous turn at the Nurburgring."
Most Americans discovered the N brand in 2019 when the Hyundai Veloster N debuted. The hatchback was tailored to enthusiasts, arriving with a six-speed manual transmission and 275 horsepower. It was followed by the crossover Kona N and the Elantra N sedan, both sporting the same turbocharged engine. However, all the N street cars get their spirit from the company's motorsports teams.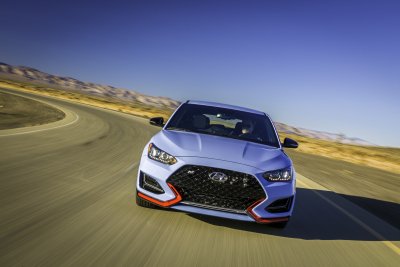 "I've been racing for Hyundai since 2018, with Bryan Herta Autosport," team driver Michael Lewis told Newsweek. "So, it's been a great relationship and Bryan is a legendary guy in motorsport, winning the Indy 500 a couple times."
"And that's when I was made aware of N. Since then, I've tried to tell everybody about it, because once I felt all these cars, I'm like, 'these are race cars for the street.' Obviously, they have street tires, but the chassis is the same. And we bolt on a few racing parts, and it's what we use," said Lewis.
But as much as he liked autocrossing the Veloster N and driving the Elantra N on the track. It was the aggressiveness of the Kona N that surprised him the most at an event at Atlanta Motorsports Park, where all the N cars were available to drive.
"I like the Kona N just because it's rowdy," said Lewis. "It has a different kind of sporty look. I like the styling and how it feels on the street, but it's also a good time at an autocross event or a track day. They're really quick."
And after a day of driving the N versions of Hyundai's cars on and off the track and autocross course (a short, tight coned course usually in a parking lot) they proved to be dual-purpose cars with stiff suspensions and tight, aggressive steering.
The Veloster, Elantra and Kona N cars come with the company's N Corner Carving Differential, an electronic limited-slip differential that sends power to the front wheel with the most grip (all Ns are front-wheel drive). That means when the car is leaning around a fast corner, the outside wheel, the one that's pushed into the pavement, will provide the power.
They also land with a launch control function, variable exhaust and the N Grin Control System. That is what Hyundai calls its drive mode select system with modes for Eco, Normal, Sport, N and Custom. They change parameters of the engine, electronic stability control, exhaust note and steering feel.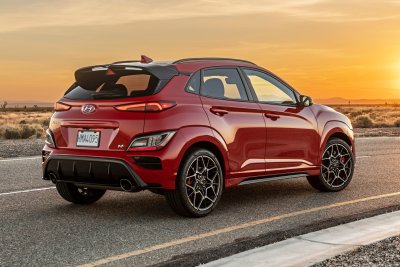 Still, Hyundai can read the room. It understands that most of the time, these cars will be commuters.
"They're efficient, they're reliable. The brakes don't make any noise. They're quiet," said Joyce. "They're pleasant to drive every day. They're nice. You put them in normal suspension mode and there's no reason someone couldn't drive them every day to work and get good fuel economy and have a nice audio system. They all have the advanced driver assistance equipment too."
A rigid options list simplifies things at the company and gives it an advantage over automakers that offer sporty models with tons of options for interior and exterior equipment.
"We don't have a lot of models of them because it gets too complicated to stock them at dealers. In the case of the Kona N, it only comes one way. So, we gave it a lot of safety equipment for that buyer to enjoy everything they need. In the case of a Elantra N, you have a manual and automatic and that's it," said Joyce. "We know what the buyers are going to want and we're going to give it to them all in one package."
For instance, in addition to forward collision avoidance, lane keeping assist, blind spot indicators and rear cross traffic alert, Kona N buyers get Bluetooth with voice recognition, automatic temperature control, heated front seats, power driver's seat, proximity key with push-button start, Harman Kardon audio and dual front USB outlets for Apple CarPlay and Android Auto.
All of that is displayed in the N cars like a video game, with digital screens and graphics and animations, changing with drive modes and other adjustments. It even has flames on the gauges when drivers switch into the N modes.
The Elantra N sedan rides on a new platform called K3, making it just a bit smoother, quicker and more controlled than either the Veloster N or Kona N. That's the one Lewis and the rest of the Hyundai IMSA team now use on the track.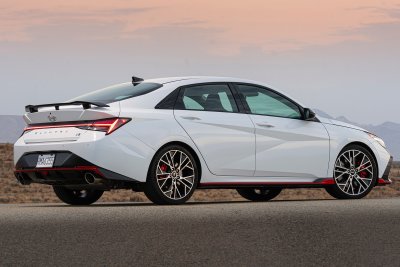 The Elantra N is also the most convenient when looking for a fun car with enough size for the family, enough looks to turn heads and enough spirit to be fun for drivers that want a little excitement in their commute.
Now ten years down the road, Hyundai considers the N experiment a rousing success.
"Absolutely. We have very positive reviews across the board of some of the leading publications on the planet. So yeah, it's earned a lot of respect, especially for its price point," said Joyce.
"And its purpose. I think anyone who looks at it must look at its price point and its purpose when evaluating it. And I think when they do, there's very little compared with it on the market, especially in terms of minimal modification, full track capability and tons of visceral excitement."
Joyce didn't mention sales, but that's not the important part of the N brand. It's about a new space for enthusiasts.
"Success for N can be measured in many ways. I don't know if N is making money yet, but its value to Hyundai potentially goes beyond immediate ROI in monetary terms," Ed Kim, president and chief analyst at AutoPacific told Newsweek.
"It is a tool to showcase Hyundai's increasing maturity and talent in terms of producing world class powertrain and chassis hardware. Despite Hyundai's massive strides since the turn of the century, it is still a challenger brand in most markets, so it has more to prove. Bringing on the expertise of Biermann ensured that the latest Hyundai, Kia, and Genesis vehicles would ride and handle with the best, but Hyundai N is the ultimate expression of the company's performance potential."
The three pillars of N, which Hyundai mentioned several times, are everyday sports car, corner rascal and full racetrack capable. After a day behind the wheel on and off the track, it has succeeded on every account.
"When people ask me what N is about, I just kind of repeat what Albert Biermann said," Lewis told Newsweek. "We're trying to show people that these cars are fun to drive if you want to have a great experience. If you feel connected to the car, that's a win. It doesn't necessarily have to be the fastest, we may not beat Lamborghini or Ferrari. But of course, as you hop in this thing, you're going to have a really big smile on your face, and you know, the bang for your buck really can't be beat."