The Right Place | The Jalopy Journal The Jalopy Journal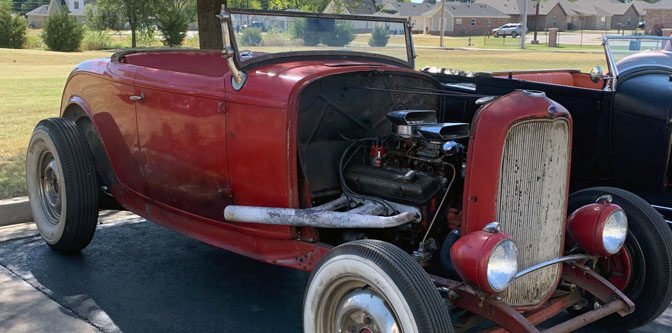 This week has been one for the publications. Someplace in in between Monday night time and Tuesday early morning, I flew from San Francisco to Michigan in preparation for the street trip of a life time. The strategy? Consider a pack of early Ford warm rods and push to The Collecting at the Roc. 5 states, a few times and a whole large amount of miles. It is all part of a Ridetech undertaking that I'll be sharing extra about afterwards.
On Thursday morning, I unfolded myself out of Tim Traylor's nailhead-run Deuce 5-window in Bartlesville, Oklahoma. Within just 10 seconds of standing upright, my eyes locked in on a Torch Pink 1932 Ford roadster. "Woah!" I said, admiring the weathered paint, chrome steelies and 2×4-fed smallblock. As luck would have it, Dan Olsen, the car's owner, was standing close by.
It took a minute for it to click on, but I try to remember that he explained to me all about this car or truck in Des Moines previously this 12 months. Originally very hot rodded in the late 1950s, the Nebraska-primarily based roadster was a dream Craigslist come across.
Acquired as a pile of areas, Dan put in quite a few decades bringing it back to daily life. While it experienced a flathead again in the day, he discovered that it at some point received a smallblock transplant. Now backed by a T5, he drives this automobile all over the place.
Dan's roadster is a person of those sizzling rods that just feels ideal. It is properly imperfect. I like just about everything about it, but I'm most in enjoy with the candy-striped inside. This auto is a standout.
Looking at it ideal off the bat in Bartlesville solidifies that I am, without a shadow of a doubt, in the correct position. See ya in Oklahoma!
—Joey Ukrop